Book covers ▼
Back and front covers, with spine, of recent books designed and produced by MetaGlyfix. Actual dimensions of each volume is 6" (width) by 9" (height); spine widths vary.
from: On The Sunny Side: The Danbury Mad Hatter Chorus, 1966-2016. Wynn Gadkar-Wilcox. Published by Danbury, Connecticut, Mad Hatter Chorus (2017). [x + 125 pp.; 27 photographs, many full-color]
Front cover from author's design and scan of newspaper clipping [in new window].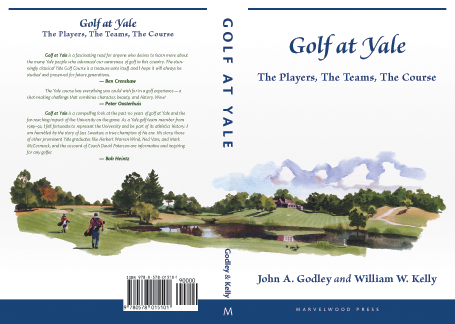 from: Golf at Yale: The Players, The Teams, The Course. John A. Godley and William W. Kelly. Published by Marvelwood Press, New Haven, Connecticut (2009). [xiv + 259 pp.; 154 illustrations, most full color]
from: Japan and the World: Japan's Contemporary Geopolitical Challenges; In Honor of the Memory and Intellectual Legacy of Asakawa Kan'ichi. Edited by Masaru Kohno and Frances Rosenbluth. Yale CEAS Occasional Publications, vol. 2. Published by Yale University Council on East Asian Studies (2008). [xvi + 294 pp.; 12 illustrations; 6 tables]
Last updated 01 August 2021 (Sunday) at 19:46:42 EDT ▲